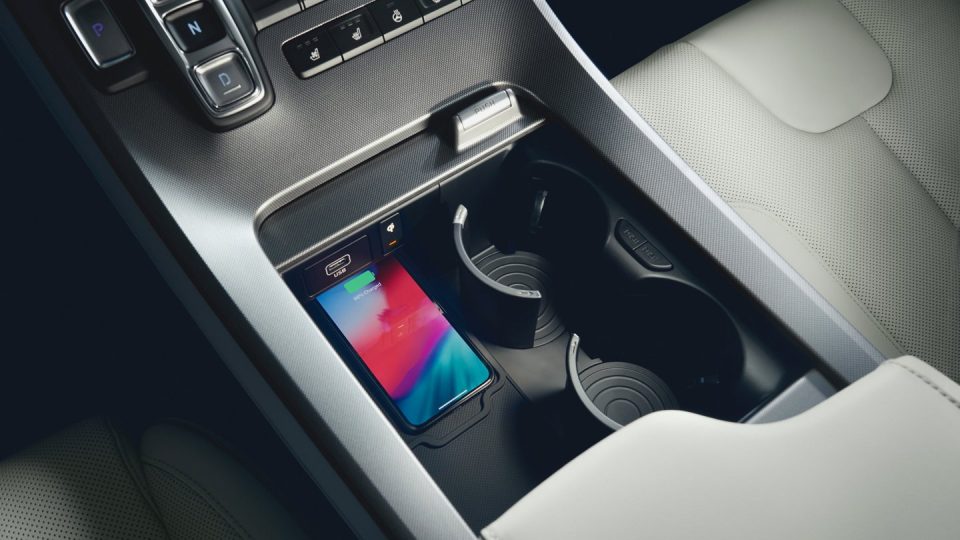 The Hyundai Palisade may not be Hyundai's first three-row SUV, but it certainly is the most intriguing of its kind. The 2020 Palisade's smooth ride quality and high-end interior provides the driver with an upscale driving experience. Offering three spacious rows of seating, safety and driver-assist technology, all-wheel drive, and distinctive styling, this upscale Hyundai benefits from an uncommon attention to detail. It's all too good not to talk about, so here are a few design elements that help elevate the Palisade from an ordinary SUV to an exceptional one.
Retractable Cupholders
The first thing that helps this vehicle stand out from the rest is it's hidden secrets. Two cup holders deploy from beneath the slide-away center console lid, rotating out from hidden compartments at the press of a button. When you're not using one or both, each one can be rotated out of the way (using your fingers) and back into their compartments, leaving behind a large square area for storing snacks, phones, keys, and other items.
Cord Tunnel
The next noteworthy design element is the storage provided. The 2020 Hyundai Palisade's center console design frees up space underneath for an extra storage nook. Hyundai's lower storage area includes an extra USB port and a power outlet. To prevent those power ports from creating an ugly cluster of cords, Hyundai designed a little tunnel from the lower bin to the upper bin so that users can thread their charging cable cords through.
Quiet Mode
Do you take long road trips and rotate drivers every so often so everyone can grab some shut-eye in the back seat? You want those in the rear seat to relax, so you'll need a way to balance entertainment for the driver and quiet for passengers. The Palisade's stereo system includes a Quiet Mode function that mutes the rear speakers on demand. It stays pretty hushed back there while allowing the driver and front-seat passenger to enjoy on-the-road entertainment.
You might also like: Create The Perfect Charcuterie Board!
One-Button Sliding Seats
The final feature we'd like to mention is an important one. To aid access to the Palisade's third row, Hyundai has created a one-button function that quickly and easily moves the second-row seat up and out of the way. Simply press the button, and the entire seat slides forward to open up a walk-through to the third-row seats. It's so easy, even kids can do it. One button is mounted low, at kid height, on the side of the seat cushion, while the other is at grownup height atop the seat next to the headrest.
Make the Hyundai Palisade your next purchase at Red McCombs Hyundai Northwest in San Antonio, Texas!