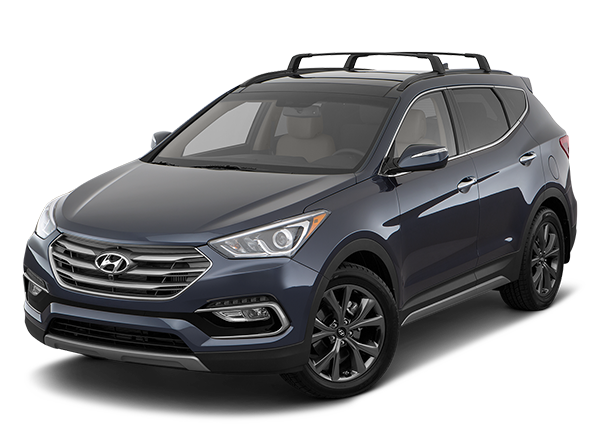 While there certainly isn't a shortage of crossovers in the automotive marketplace, there may be a small supply of difference makers. You know what we're talking about here. The kind of crossover that stands out from the crowd and clearly separates itself as a superior value from the rest. Well, in the case of the 2018 Hyundai Santa Fe, you can consider it in a class all by itself. Along with our friends at CarandDriver.com, we've put together some compelling reasons to consider this midsize crossover from Hyundai. 
Standard Features Galore
One of the biggest advantages that any new Hyundai offers over the competition is the amount of standard equipment you get. For example, with the SE version of the 2018 Santa Fe you'll get a 7-inch touchscreen, Apple CarPlay®, Android Auto, and 18-inch wheels.  
Roominess For the Whole Family
Compared to its sibling — the Santa Fe Sport — the 2018 Santa Fe sits on a wider 3.9-inch wheelbase and is 8.1 inches longer overall. That means it sports that coveted third row of seating and serves as a great option for family transportation. You've also got a choice of three trim levels with the 2018 Santa Fe: SE, SE Ultimate, and Limited Ultimate. 
A Smooth Operator
The 2018 Santa Fe's ride is ultra smooth no matter what conditions you find yourself driving in. That's a big plus if you are taking the little ones on longer hauls and want to keep them dozing during the drive. Hyundai has made incredible technological leaps in driving dynamics over the past few decades and it's definitely evident in the 2018 Santa Fe. 
You might also like: 2019 Hyundai Elantra Vs. 2019 Hyundai Sonata
Find Your 2018 Hyundai Santa Fe
If you like what you've read so far about the 2018 Santa Fe, why not take the next step? Head down to Red McCombs Hyundai Northwest for a test drive. Nothing can compare to actually driving this crossover in real-time, and our product specialists will be happy to answer any and all questions you may have during the journey.