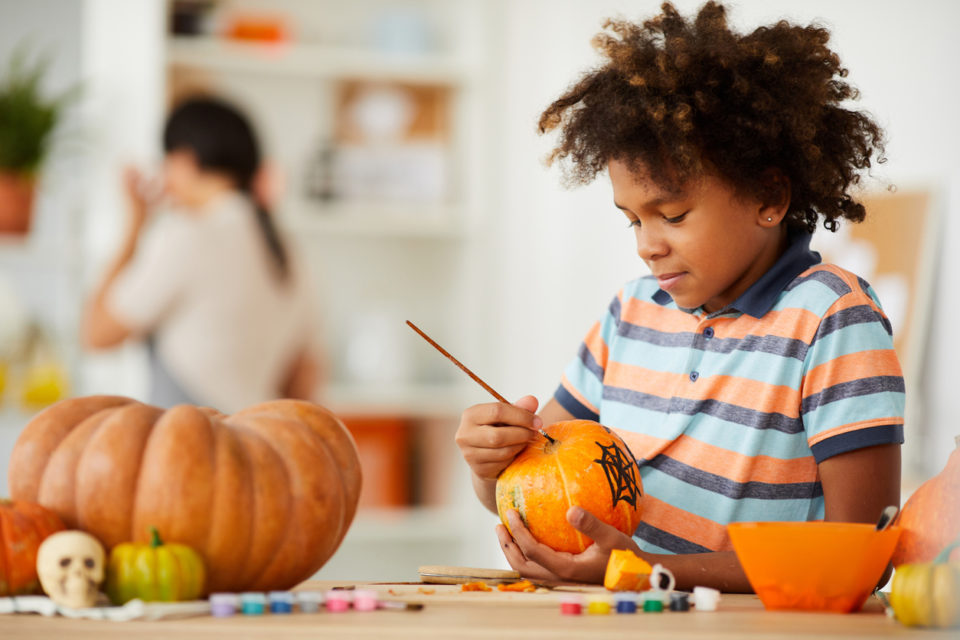 Why carve a pumpkin for Halloween when you could paint one instead? Carving pumpkins is messy and takes a lot of time. From scooping out the seeds inside to drawing a template to carve around to actually carving the pumpkin itself, it can be a very long process. We think painting pumpkins is the way to go. It's faster, easier, and totally kid-friendly. If you're ready to level up your pumpkin game this year, try painting them with our helpful tips.
Type of Pumpkin
You can choose between using a real pumpkin or an artificial craft one. It's completely up to you. One of the benefits of using a craft pumpkin is that you can keep it and use it year after year. However, a real pumpkin you've just picked from the pumpkin patch is fun as well.
Pick A Theme
If you want a group of pumpkins that look good together, make sure to pick a theme before you begin painting. You can do this by choosing certain colors to paint with, or by creating a mood board for inspiration. Current 2020 trends in color, fashion, graphic design, or illustration could be sources of inspiration if you don't already have an idea in mind.
Choose Different Painting Styles
Make sure each of your pumpkins looks like the individual it is by choosing different painting styles and techniques for each one. Here are some of our favorite painting style tips:
Use masking tape to create easy patterns
Paint the stems
Make vertical stripes by following the natural ridges
Use a stencil for letters and numbers
Sketch out an animal or object
Paint small pumpkins one color
You might also like: 6 Activities To Make You Feel Like A Kid Again
Create Your Display
Once the paint is dry, find a fun way to display your creations. You can scatter your pumpkins across your front steps, or you can grab crates and boxes to create different levels. However you choose to display them, make sure they're in a place where they can be enjoyed by everyone throughout this spooky season.
Need a car to get you to the craft store? Stop by Red McCombs Hyundai Northwest!