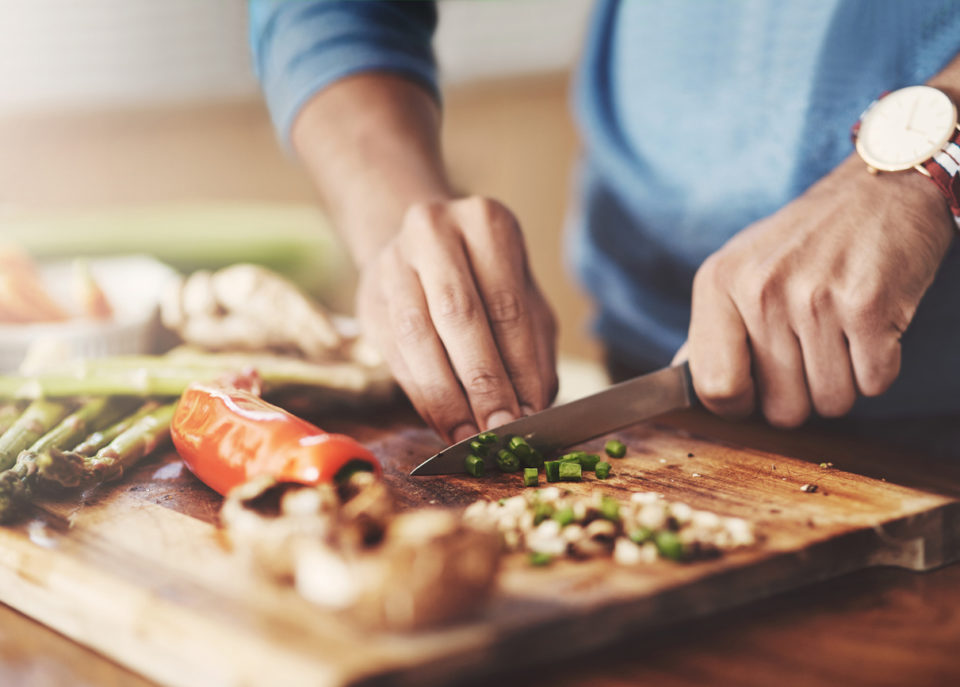 Whether you're a seasoned pro or a kitchen novice, these chef tips will take your cooking to the next level!
Freeze Cheese Before Grating
If you've ever experienced the frustration of having cheese slip out of your hand while you're grating it, you'll love this tip: freeze your cheese for 10 minutes before grating it. This also works for dicing raw meat!
Invest in a Chinois
A good chinois can replace your colander and mesh strainer, freeing up cabinet space and giving you a better tool. A chinois is a cone-shaped strainer with very very fine mesh that can remove even the tiniest particles (like pepper flakes) to give you the smoothest, creamiest sauces and soups you've ever had. Pair a ladel or a silicone spatula with your chinoise to push the liquid through for more efficient straining.
Cut Chives and Scallions With Ease
Wrap a bunch of chives or scallions with a thin band of a wet paper towel to keep everything in place while you chop. As you work, move the paper towel down the bunch, using a claw grip of your fingers to chop the last few pieces. You'll get perfect slices and spare the hassle of slippery aromatics!
Season and Taste as You Go
You've probably heard it before, but it bears repeating: season and taste your dish as you cook/at every step. This helps prevent food from being too salty or bland and allows you to layer flavors throughout a dish. If you're cooking something raw – like fish, meatballs, or veggies – cook a small piece first to sample the seasoning before you cook the whole dish.
Say Yes to Butter
When in doubt, add an extra pat of butter – especially to a sauce. When you're finishing a pan sauce, toss in a tablespoon or two of cold butter and swirl it around the pan off the heat. This technique, which is called monter au beurre in French, mellows strong flavors and gives the sauce a silky smooth texture.
You might also like: Keep Your Tires In Top Shape With These Tips
Meringue Made Easy
Meringue is the base of many wonderful desserts, but it can be intimidating for many home cooks. When you're making meringue, you want to avoid getting any kind of fat into the egg whites before/while they're whipping. To help avoid this, wipe down your bowl and whisk attachment with lemon juice or vinegar to remove any traces of fat that might have escaped the dish soap. You'll also want to add a couple of shakes of cream of tarter to your egg whites to add extra acid and help stabilize the proteins of the white. If you accidentally get a tiny bit of yolk into your egg whites, try to scoop it out with an eggshell. If that doesn't work, add an extra pinch of cream of tartar to counteract the fattiness of the yolks.
Disclaimer: The stock image is being used for illustrative purposes only, and it is not a direct representation of the business, recipe, or activity listed. Any person depicted in the stock image is a model.