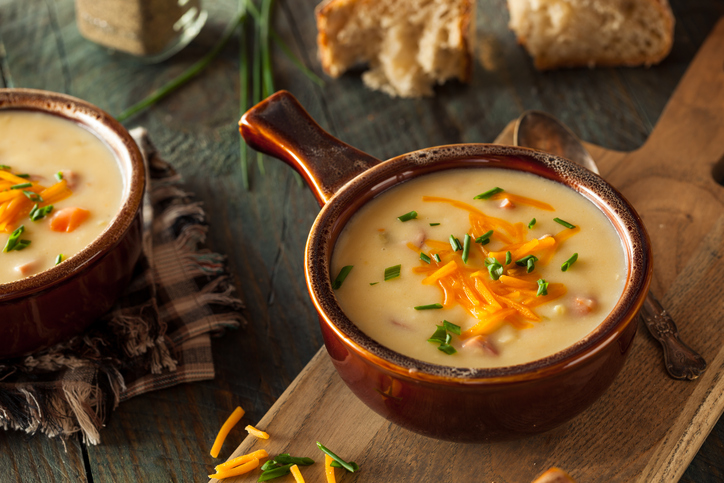 With winter comes cold temperatures. For most people, that means feeling chilly on both the inside and the outside. To combat the weather on the outside, you'll need to bundle up. However, nothing works as well as a bowl of hot soup for the inside of your body. Here are some great options for you and your family.
Roasted Cream of Cauliflower and Parmesan Soup
If you want to make a healthy, filling, creamy, and cheesy soup, you'll want to make this. In addition, it requires few ingredients. To make it, you'll blend roasted cauliflower with flour, milk, butter, chicken broth, and heavy cream. Then before serving, top each bowl with shredded parmesan cheese.
Irish Parsnip Soup
Are you tired of making the same kinds of soup every winter? If so, here's an excellent alternative. Because of the parsnip, you'll notice a slightly sweet flavor. At the same time, the coriander, cumin, and curry give it a subtle spicy flavor. Best of all, it's high in Vitamins E and C, as well as potassium and folate.
Broccoli, Potato, and Cheese Soup
Even if you have kids in the house that snub their noses at most soups, they'll love this. They won't care that it contains broccoli florets. Instead, they'll focus more on the chunks of tender potatoes and the gooey cheddar cheese.
Stuffed Pepper Soup
This soup tastes fantastic and will warm you up on the inside. Besides the sweet pepper flavor and the heartiness of the beef, the recipe calls for either brown or white rice. With everything combined, it makes an excellent choice for dinner on a cold winter night.
Ajiaco
There's nothing you won't like about this Colombian chicken and potato stew. While it's a favorite in Colombia's capital, people around the world appreciate the incredible flavors of this soup. After all, it includes corn on the cob, tender chicken breasts, and three different types of potatoes.
Roasted Carrot and Ginger Soup
Not only is this soup creamy, but it also has a unique flavor that's beyond delicious. For this, you'll need roasted carrots, garlic, fresh ginger, and several Mediterranean spices. It's so good that even your kids will ask for it again.
Lancashire Hotspot
After making this international soup just once, it'll become a family favorite. For one thing, all the ingredients sit on top of rich, thick gravy. For another, it's topped with thinly sliced crispy potatoes.
You might also like: Keep Your Car Toasty With These Tips
Spanish Bean Stew
One benefit of making this soup is that it's loaded with nutrients. Those come from the beans used to make it, as well as fresh spinach. Even better, you can make this satisfying soup in only 20 minutes. For a complete meal, serve it with a salad and homemade bread.
Disclaimer: The stock image is being used for illustrative purposes only, and it is not a direct representation of the business, recipe, or activity listed. Any person depicted in the stock image is a model.