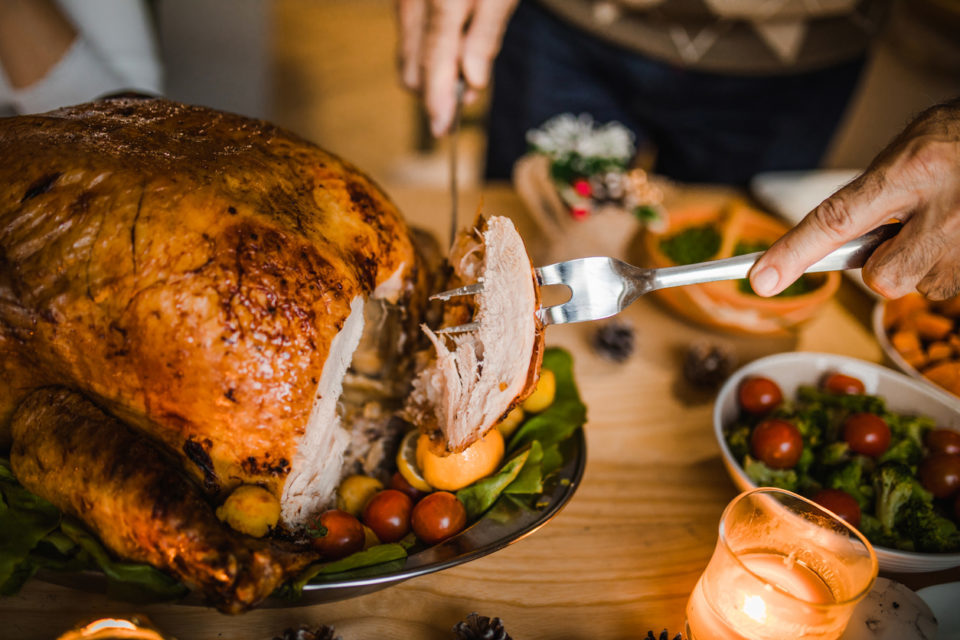 Preparing your first Thanksgiving turkey can seem intimidating. We've all seen the disastrous videos of birds coming out of the oven heinously dry, or worse, starting a grease fire in the backyard. Even the most experienced cooks get a shiver down their spine at the very thought of preparing a turkey for everyone's enjoyment. Although it may seem like an arduous task, it really just involves a few simple steps. That's why LA Times has put together this step-by-step guide for preparing your first Thanksgiving turkey. 
Where To Start
Once you've bought your bird, remove the neck and giblets from it. Refrain from washing the turkey as you do not want the water to spread any bacteria. Remember, however, to wash your hands as well as all tools and utensils you may use.
To season your turkey, rub salt and pepper inside and out. To get fancy, add some fresh chopped herbs. To truss the bird, tie the back legs together. This will help hold it all together, as well as make it look a little nicer.
Next Steps
Next, you'll need to heat your oven to 425 degrees Fahrenheit. While the oven is preheating, baste all over with melted butter. Once the oven is ready, place the turkey on the center rack.
To roast the turkey, cook for about 15 to 20 minutes. This will add some color to the bird. After roasting, reduce the temperature to 325 degrees to allow the turkey to cook thoroughly. Remember to pull it out every half hour to baste it. Keep an eye on the temperature; you'll want it to be 165 degrees on the inside.
You might also like: Build Your Very Own Hyundai Santa Fe
Finish It Off
Roasting time will depend on the size of the turkey. Typically, it should be 2.5 to 3 hours for an 8-12-pound turkey. Once cooked, let the turkey rest at least 15 to 20 minutes before carving. This will allow for all of the juices to settle, and it will help your turkey be as flavorful as it can possibly be.
You'll be the talk of the table when you present this gorgeous and delicious turkey!
Disclaimer: The stock image is being used for illustrative purposes only, and it is not a direct representation of the business, recipe, or activity listed. Any person depicted in the stock image is a model.