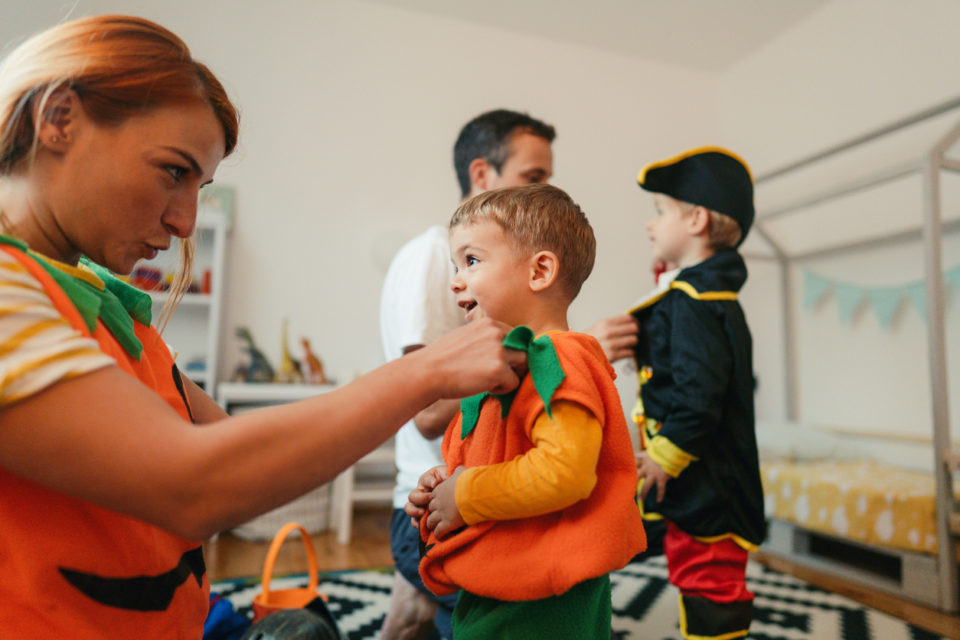 With Halloween coming up, you're probably stocking up on candy for trick or treaters and breaking out the decorations. Costume parties are also a big part of the festivities. You don't want to be left out with nothing to wear to your upcoming event. Even if you don't ordinarily dress up for the holiday, you can have a lot of fun with some creative, standout costume ideas.
Smarty Pants
It doesn't take anything elaborate to put together a creative Halloween costume. You can get a few laughs by attaching a dozen or so Smarties candy packages to your jeans. Using glue dots or double-sided tape should work just fine. To further accentuate the name of the costume, put on some glasses and have a book in your hands.
Farmer
If you have a flannel shirt and a pair of overalls in your closet, you can pull off this costume. Add a pair of boots and maybe a cowboy hat, and you've got yourself a farmer look. For guys, it won't hurt to have some facial hair, too.
'Men in Black'
The movies are getting on in age, but they're still memorable enough to make a good costume idea. Put on a dark suit coat and pants, along with a white shirt and a tie, and you'll look like the agents from this sci-fi/comedy film. Of course, don't forget the dark sunglasses. And if you happen to have a pug to bring along with you, it's even better.
Bob Ross and a Happy Little Tree
The famous painter you used to watch on TV isn't with us anymore, but his legend lives on. Put on a long-sleeved blue button-up shirt and some tight jeans, along with a curly wig to match Bob's iconic hairstyle. Then, find or make a paint pallet and a paintbrush. Your dress-up partner can wear a brown sweatshirt with cut-out leaves all over it.
Old Married Couple
What do you envision a typical "old married couple to look like?" You can have some fun with this one and exaggerate a little bit. You and your partner can put on bathrobes, pajamas, and slippers. Then grab some coffee mugs, giving the appearance that you're ready to turn in for the day as soon as your party is over.
You might also like: Gameday Snacks To Amp Up Your Watch Party
Ketchup and Mustard
Here's an easy but fun one to try at your next party in San Antonio, TX. Great for couples or friends, just don yellow and red outfits, respectively, and make a cone-shaped piece to wear on your head to resemble the nozzle. It won't hurt to carry around some actual ketchup and mustard, too.
If you're short on time for costume ideas this Halloween, never fear. This list gives you some good options for easy-to-make but playful choices.