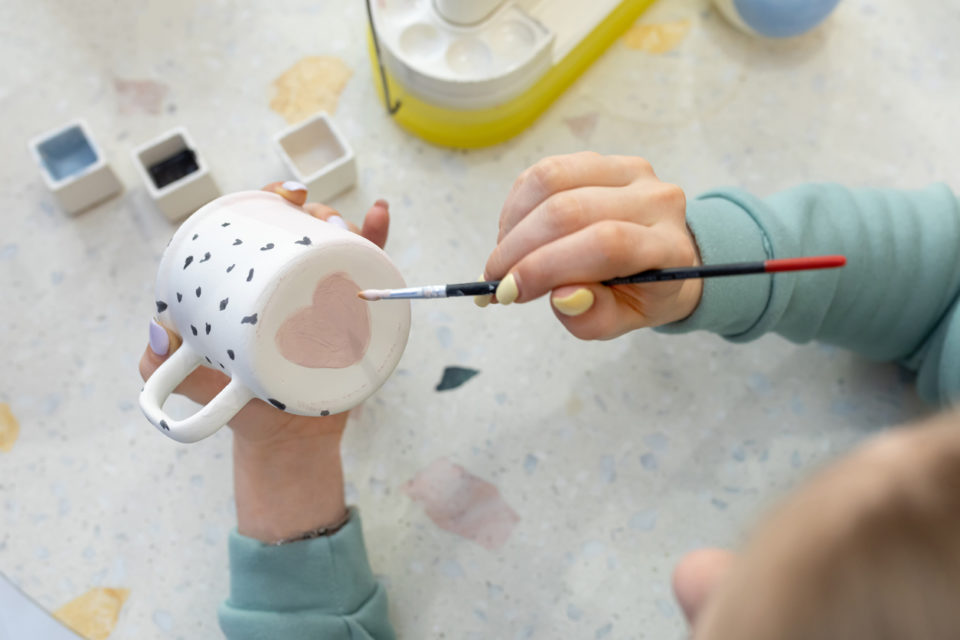 Budding artists who want to express themselves on a piece of pottery should head over to Clay Casa, grab a paintbrush, and get to work. Customers don't need a reservation to participate. They simply walk in, select the pottery they want, and begin creating their masterpiece.
How It Works
There is a wide range of choices available for people to paint. Customers can choose from plates, mugs, banks, boxes, jewelry, and other items. Once they have made their choice, it's time to move to the design and painting stage. Special techniques are used to make the painting easy. Once the painting is complete, customers return to the store in four days to pick up their creation.
Birthday Parties for Kids
People who want to have birthday parties for their kids at Clay Casa have several options to choose from.  The Classic Party, Signature Party, and Ultimate Party each offer different levels with various features. Kids get to paint their pottery in the main studio, participate in other party games, and win prizes. Folks can even opt to have the party in their own environment. The party to go plan from Clay Casa allows people to have their celebration at home or anywhere else they choose.
Parties for Adult Birthdays and Corporate Events
Kids are not the only ones who can have events at Clay Casa. Many times, adults have birthdays in the main studio with time to paint pottery just like the kids have. Companies and other groups gather at Clay Casa, too. The business has hosted bachelorette parties, holiday parties, and team building events as well.
Summer Camps
Each year, Clay Casa hosts kids for summer camps. Every camp lasts five days and includes painting, snacks, and more. The program is ideal for young ones whose age would put them between kindergarten and fifth grade, but kids up to 17 years old are welcome to attend. Upcoming camps include Snack Attack, Wizards & Muggles, Unicorns & Dragons, Under the Sea, and Walk on the Wild Side. Depending on which camp and which week a camper chooses to attend, there are various techniques the kids will learn such as ombre, antiquing, bubbling, marbling, tracing, sgraffito, splatter, sponge, and more.
You might also like: Tips For Teaching Your Kid To Ride A Bike Like A Pro
Check Out Special Deals at Red McCombs Hyundai Northwest
People in San Antonio, Texas, who are looking for a new car this summer should head to Red McCombs Hyundai Northwest and check out the special offers on new vehicles. With unbeatable customer service and amazingly low prices, Red McCombs Hyundai Northwest is an ideal place for customers to buy their next vehicle. The dealership is located at 13663 I-10, San Antonio, Texas 78249.