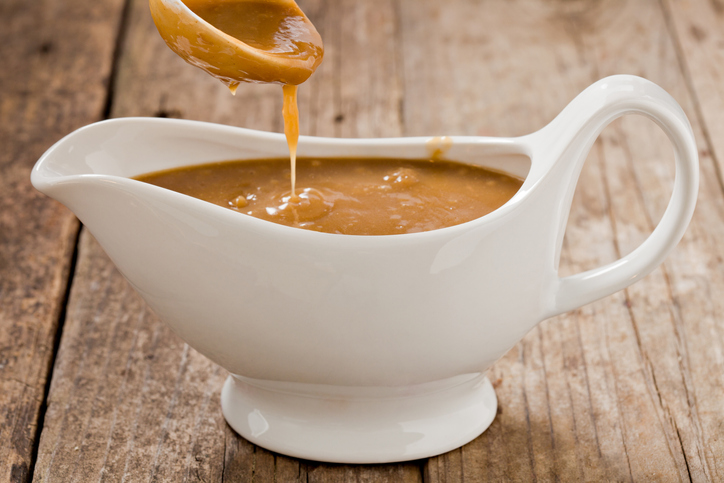 If you're hosting Thanksgiving dinner, you've probably had a lot of people offer advice, including what to serve. However, you'll never go wrong with these three favorites. Because you'll have no problem finding ham and turkey recipes, these suggestions focus on other dishes.
Make Ahead Gravy
Time is always a challenge when preparing Thanksgiving dinner. Here's a great way to manage your time better without compromising the gravy's flavor. You'll need:
2 pounds of turkey wings
1 tablespoon butter
2 32-ounce cartons of reduced-sodium chicken broth (divided)
2 medium onions, carrots, and celery ribs (cut the veggies into bite-sized pieces and don't remove the leaves from the celery)
4 sprigs of fresh thyme
1/2 cup plus 2 tablespoons all-purpose flour
1/4 teaspoon pepper
Place the turkey wings and onions in a well-greased 13×9-inch baking dish. From there, you'll bake the ingredients uncovered in a 400-degree oven. During the one hour and 25 minutes cooking time, turn just once. When finished, transfer them to a Dutch oven. To the still-warm baking dish, add two cups of the chicken broth. Carefully scrape any of the browned meat pieces from the bottom. Pour all of this into the Dutch oven with the turkey wings and onions.
Add the remaining four cups of chicken broth, carrots, celery, and thyme. First, you'll bring this mixture to a boil. Second, reduce the heat and simmer while uncovered for roughly 45 minutes.
Slowly strain the mixture over a large saucepan. After this, throw away the turkey wings and veggies. Also, be sure to skim off any fat from the liquid you cooked the ingredients in. Ultimately, you want to end up with three and one-half cups of broth. To that, whisk in the flour, pepper, and butter until thickened. Store in the refrigerator and heat before serving.
Cranberry Ricotta Gnocchi / Brown Butter Sauce
For this recipe, you will need:
3/4 cup cranberries (dried and divided)
2 cups ricotta cheese
1 cup all-purpose flour
1/2 cup parmesan cheese (grated)
1 large egg (beaten slightly)
3/4 cup butter (cubed)
3/4 salt (divided)
2 tablespoons fresh sage (minced)
1/8 teaspoon white pepper
1/2 cup walnuts (toasted)
To toast the walnuts, spread them evenly on a cookie sheet and bake at 350 for about six minutes. In a large bowl, add half of the cranberries, ricotta cheese, flour, parmesan cheese, egg, and half of the salt. Mix well before placing the ingredients on a lightly floured surface. Then, knead the ingredients about 12 times to form a soft dough. Cover and allow this to rest for 10 minutes.
After resting, divide the dough into four pieces. Roll each one out on a floured surface to make a rope that's three-quarters of an inch thick. Cut each rope into three-quarter-inch pieces. Then, press the pieces, followed by rolling them using a fork dipped in a little bit of flour. Now, bring four quarts of water to a boil in a Dutch oven. Add the gnocchi in batches. Cook them for 45 to 60 seconds or until they float to the top of the water. Use a slotted spoon to remove them. Set aside and keep them warm.
Cook the butter over medium heat in a heavy saucepan for about five minutes. Add the sage and cook an additional four minutes. Be sure to stir once in a while. When the butter turns brown, add the walnuts, the remaining cranberries, and the white pepper. Finally, add the warm gnocchi. Stir well and serve.
You might also like: Visit Nadler's Bakery And Deli
Cranberry Sauce with Maple Syrup
For this, you will need:
2 cups cranberries (fresh or frozen)
1/2 cup maple syrup
1/2 cup honey
1 tablespoon orange zest (grated)
For this delicious turkey day treat, add all the ingredients to a large saucepan. Cook over medium heat for about 15 minutes or until the cranberries pop. Place a cover over the food and keep it in the refrigerator. Just before serving, you can put a small amount of orange zest on top.
Disclaimer: The stock image is being used for illustrative purposes only, and it is not a direct representation of the business, recipe, or activity listed. Any person depicted in the stock image is a model.