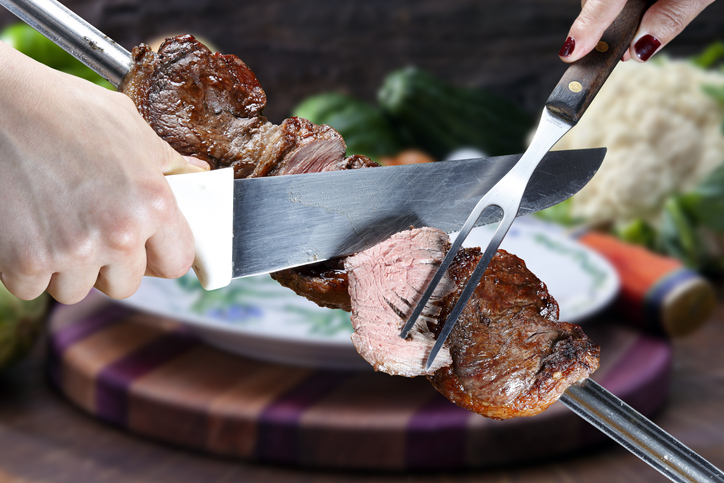 A lot of restaurants offer "all you can eat" menu items. But they usually consist of chicken, shrimp, or Asian food. Moreover, seldom is the food of superior quality. But in San Antonio, a restaurant called Fogo de Chao provides guests with an unbelievable dining experience. Along with a variety of delicious food, it features all-you-can-eat steak.
Introducing Fogo de Chao
Located inside the Marriott on Commerce Street in San Antonio, Texas, this restaurant ensures a fantastic dining experience.
There's the massive dining room that's capable of seating 250 guests. In addition, Fogo de Chao has several private dining rooms. The River Room features a 180-degree glass wall with a stunning view of the River Walk and the downtown area.
However, this restaurant does something else that you've probably never seen. It provides guests with differentiated menus. In other words, these menus cover lunch, dinner, weekend brunch, and group dining. In addition, Fogo de Chao provides takeout, delivery, and full-service catering.
Excellent Menus
You'll discover incredible options regardless of the menu. However, the dinner menu is what a lot of people talk about. After all, it includes delicious items made with the freshest and finest ingredients available. Also, you can choose the "all you can eat" steak for dinner. Along with that, here are some examples of what's available.
Appetizers
Jumbo Shrimp Cocktail
Chilled Lobster and Shrimp
Seafood Tower
Main Courses
Because of the vast options, you might struggle to select just one main course item from Fogo de Chao's dinner menu.
Chilean Sea Bass – Topped with papaya vinaigrette and served with grilled asparagus
Pan-Seared Salmon – Topped with chimichurri and also served with grilled asparagus
Cauliflower Steak – Oven roasted with a parmesan crust and served with basil sauce and a warm chickpea salad
You might also like: Spring Break Ideas For Texas
All You Can Eat Steak
You'll leave a satisfied customer regardless of what you order at Fogo de Chao. However, the all-you-can-eat steak is what locals and visitors rave about. For this, you'll enjoy continuous tableside service that consists of signature cuts of fire-roasted meat. Here are your choices:
Medalhoes com Bacon (Bacon-wrapped chicken and steak)
Filet Mignon tenderloin
Bone-in Beef Ancho (bone-in ribeye)
Fraldinha (bottom sirloin)
Linguica (spicy pork sausage)
Lombo (pork)
Picanha (the prime portion of the top sirloin)
Cordeiro (lamb picanha chops)
Costela de Porco (pork ribs)
Costela (beef ribs)
Alcatra (top sirloin)
Frango (chicken)
Bisteca de Porco (double bone-in pork chops)
Additionally, you can choose from an assortment of Brazilian side dishes. These include crispy polenta, cheese bread, mashed potatoes, and caramelized bananas.
Fogo de Chao is one of the most popular restaurants in San Antonio. This is because of its beautiful atmosphere, outstanding service, and incredible menus. Although you don't need an excuse to dine there, it's an ideal place to celebrate an anniversary or impress a date.